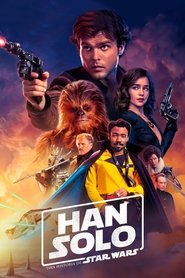 Han Solo: A Star Wars Story (2018) [BluRay]
During an adventure into the criminal underworld. Han Solo meets his future co-pilot Chewbacca and encounters Lando Calrissian years before joining the Rebellion.
Duration: 135 min
Release: 2018
[sociallocker] [/sociallocker]
Spider-Man: Homecoming
Spider-Man: Homecoming
Peter Parker comienza a experimentar su recién descubierta identidad como el superhéroe Spider-Man. Después de la experiencia vivida con los Vengadores, Peter regresa a casa, donde vive con su tía….
Vengadores: Endgame (2019)
Vengadores: Endgame (2019)
Etapa final de la fase 3 de Marvel en donde Los Vengadores deberán unirse para finalmente vencer al titán Thanos. Un homenaje a las 22 peliculas que formaron parte de…
Piratas del Caribe: En el fin del mundo
Piratas del Caribe: En el fin del mundo
Siguiendo la estela de lo sucedido en "Piratas del caribe: El cofre del hombre muerto", encontramos a nuestros héroes Will Turner y Elizabeth Swann aliados con el Capitán Barbossa, en…
Las crónicas de Narnia: La travesía del viajero del alba
Las crónicas de Narnia: La travesía del viajero del alba
Tercera entrega de la saga literaria creada por C.S. Lewis. En esta ocasión, los hermanos Edmund y Lucy Pevensie y su primo Eustace embarcan en la nave "El Viajero del…
Ice Age: La edad de hielo
La guerra de las galaxias. Episodio VI: El retorno del Jedi
La guerra de las galaxias. Episodio VI: El retorno del Jedi
Assassin's Creed
Los mercenarios
Los mercenarios
Un grupo de mercenarios es contratado para infiltrarse en un país sudamericano y derrocar a su despiadado y corrupto dictador. Una vez allí, se verán atrapados en una telaraña de…
Harry Potter y la Orden del Fenix 1080p Torrent
Harry Potter y la Orden del Fenix 1080p Torrent
Las tediosas vacaciones en casa de sus tíos todavía no han acabado y Harry se encuentra más inquieto que nunca. Apenas ha tenido noticias de Ron y Hermione y presiente…
Capitán América: Civil War
Capitán América: Civil War
"Captain America: Civil War" continúa la historia de "Avengers: Age of Ultron", con Steve Rogers liderando un nuevo equipo de Vengadores en su esfuerzo por proteger a la humanidad. Tras…
Ninja Turtles: Fuera de las sombras
Ninja Turtles: Fuera de las sombras
Michelangelo, Donatello, Leonardo y Raphael regresan junto con April O'Neil (Megan Fox), Vern Fenwick (Will Arnett) y un nuevo vigilante enmascarado, Casey Jones (Stephen Amell), para combatir a unos villanos…
Iron Man 2
Iron Man 2
El mundo ya sabe que el multimillonario Tony Stark (Robert Downey Jr.) es Iron Man, el superhéroe enmascarado. A pesar de las presiones del gobierno, la prensa y la opinión…